If this question is constantly hitting your mind, then you're at the right place. It's no secret that the world has gone mobile. And, these apps are not just to satiate our daily needs. These apps can be developed as an extension to your existing business (to augment the scope) or they can be used to create a new online business from scratch. 
As per the latest reports;
So, whether you want to build a next-gen Uber-like on-demand app or want to augment your business with mobile app development. This guide is for all those who're in a dilemma about how to create a mobile app.
Assisting tech-powered companies like Adorebits as a mobile expert, I know it's quite difficult to build futuristic and engaging apps that can bag millions of download rates. So, if you're first-timers, non-technical users or a tech-savvy entrepreneur who has experienced failure in app development, this resource guide by Adorebits will walk you through various development aspects to build futuristic and engaging apps that are highly essential for the success of a mobile app.
So, without further delay, let's get started to turn your dream app idea into a bang-on reality.
Turn your dream app idea into reality
Understand, it is just an app idea and not a concrete one. So, before you move ahead with your app idea, clarify the below points:
1. What will your mobile app do?
Just like Instagram allows users to post videos and photos, WhatsApp allows them to send seamless messages, it is highly essential to identify what are you going to offer to your users.
2. What will be the look and feel of your app?
Here, we're not talking about the entire app design, we're just talking about the general nature of the app design. In the end, you should at least know what you want.
3. How about your app idea's feasibility?
Before beginning, it is highly important to identify whether your idea is suitable enough to develop and whether your users will need your mobile services.
Detailed answers to the above questions are needed to build a kick-ass mobile app. So now, it's time to talk about how to make a mobile app. Let's have a deep dive into Adorebit's process to build the mobile app.
How to create a mobile app – A cakewalk to the Adorebit's process
1. Analyze your app idea with pre-dominant market applications
Now it's time to validate your app idea and compare it with the pre-existing app dominating the market.
      1. Identify your target audience:
To sell your app idea, you need to identify for whom it is aimed and who would be interested to buy the app. Without identifying your target audience, it's quite difficult to identify the purpose of your app.
       2. Perform competitive analysis:
Since the mobile app market is quite saturated with innumerable applications serving similar services, it's essential to identify your competitors and collect information to offer something unique yet valuable that cures user pain points. There's no point to serve the same services already being served by a couple of market leaders.
       3. Define a unique USP of your app
Now it's time to find out ways to surpass the market leaders by representing a unique and killer USP feature of your app that can impress your users and make them clingy to your app.
       4. List down your app features
Yes, you're right! A killer app feature is not just enough to give market leaders tough competition. Just think of your app functionality and pen down all the functions your app can perform. Later on, evaluate whether those features are included in the "mandatory" list of your competitors or not. The number of features included is not so important, how it is implemented is more crucial.
2. Create a basic prototype of your final product 
Once you've done in-depth research about your app idea, it's time to get started with app prototyping – A concrete model of your final product.
The prototype building can be further categorized into the below types:
       1. Conceptual prototype:
These prototypes which are also known as "mock-up" designs are rapid prototyping that establishes interaction between user and interface to make the look and feel as much realistic as possible.
       2. Interactive prototype:
The interactive prototype allows you to validate your app idea and concepts before you invest in the actual product development. Such prototypes are meant to be tested by prospective users before you finalize everything.
       3. Animated prototype:
This is the stage where the UI/UX designer visualized the program's interaction with the users. This is the stage where interaction and transitions are added from one functionality to another.
Building an app prototype requires in-depth experience and expertise to build an interactive prototype for a seamless user experience and the right app development partner can help you to build your prototype to make your user experience flowing.
3. Create a full-proof business plan to earn money
          Is creating an app prototype just enough?
 No! Your app is not just meant to solve user pain points. Albeit, you need to make money out of it. A full-proof marketing plan and activities need to be scheduled to earn enough revenue out of it.
Below are a few bankable monetization strategies that can help you to generate revenue from your app.
        1. In-app purchasing model to gain access to those extra premium features and offers to make your app experience more pleasant and delightful. For eg: if a user would like to progress faster in-app, say like get an extra life in-game app, enjoy a certain discount in dine-in option or few premium options in dating app, then they can enter in pay-to-play mode to make the experience unforgettable.
        2. The subscription model requires users to opt-in to subscription on a monthly/quarterly/annual basis to enjoy full benefits. Such strategy is mostly observed in service-based and content-centric applications like Netflix, Headspace.
        3. The paid model where your app is available for download on a paid basis. If you choose this model, make sure your app has enough value and meet user's expectation to get expected results.
4. Identify your app investors
I do have an awesome app idea…. But don't have finance. What shall I do?
One of the major reasons why awesome app ideas are buried down before they come into the existence is lack of funds. Hiring mobile app developers or an agency along with testing, deployment, and testing is a costly affair and so collecting the development budget is a daunting task.
In such case, you can try out any of the below options:
Utilize your finance and savings

Before finding investors, you can opt for a loan from your friends and acquaintances.

Try out crowdfunding platforms. It involves interaction with the future users to compel investment into the project. Some of the popular crowdfunding platforms are Boomstarter, Kiva, Kickstarter, Zidisha, and Indiegogo.  
5. Finding the right app development partner
So, you've got your investor and have an amazing app idea… but lacks programming skills?
In such a case,
How to find the right app development partner for your app?
In such a highly competitive market, it's quite hard to find an app development partner who has a perfect blend of experience, adaption to the latest technology, and diverse portfolio.
Below are a few ways to hire a development partner for your project.
      1. Outsourcing app development
If you're looking for companies with a pool of talented and experienced developers to give you an edge over your competitors, then hiring an offshore development company is the best and viable option to extend your development team. It is a cost-effective and affordable solution that eliminates the need for micromanagement of the team.
When you hire an offshore development company like Adorebits, you get a fresh perspective and unique approach to your solution. Be it Android, iOS, or cross-platform solutions, the company excels in building custom solutions from scratch for various brands and domains globally.
      2. Hire Dedicated or shared developers
When you hire a team of dedicated developers, you don't need to handle the load of hiring a full-time employee. Instead, you gain access to broader skills, expertise, and knowledge to develop your project. Such developers are exclusively working on your project and you've full hold on them. They're easy to handle and give a quicker response in case of an emergency. They are quite cost-effective as compared to the in-house developers.
      3. Hiring In-house developers
Hiring in-house talents is a viable option for businesses that have enough funds to burn till the project gets launched successfully. So, if you already have app developers, they will be prioritizing other projects too alongside. Hiring in-house talents are quite costly as compared to the above two alternatives and needs perfectly set HR operations too.
6. Estimating the cost of app development
How much do app costs to develop is the most asked question by startups and well-established entrepreneurs? When it comes to "how to create a mobile app", the saying "you get what you pay" is fully justified. And the response to such intriguing questions further raises more questions.
Below I am breaking the cost of app development on certain factors and criteria.
Cost to build an app country-wise.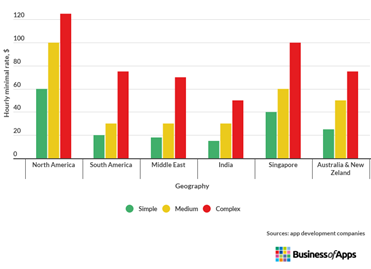 The above chart shows that hiring offshore resources and developers is far cost-effective than hiring in-house talents. As per the above-average rates, hiring offshore talents and resources from a destination like India ( $10-$40/hour) is quite cost-effective compared to counties like the USA and the middle east. It can further reduce your development cost by 50%.
Cost to build an app by hiring offshore developers

The above chart clearly defines hiring offshore developers from India as highly cost-effective as well as affordable to build complex and long-term projects.
7. Choosing the right development option – full-fledged development or MVP
Well, it depends on you. Do you want to launch an MVP to test your app or want to take time and launch a full-fledged app once it's developed? – The call is yours.
Developing an MVP version of your app will let you test essential features and key functionalities of your app. This will help you to validate your app idea before the final launch of your product. When you go with full-fledged development, your app will solve the majority of your customer pain points and will leave room for improvement in the form of updates. 
MVP development can give you faster results in a shorter time. Going with full-fledged product development consumes more time and effort but the blend of smart planning and step-by-step product development will surely give you expected and promising results which can be uncertain while choosing MVP development. 
8. Market your mobile app
Once you've launched your mobile app, it's time to make it visible to the users globally by marketing your app. You can make use of various social media marketing channels like:
Last but not least: Constant improvement is the key to the app's long-term success
Creating a mobile app is not just an end, instead, it's just the beginning. A lot of work needs to be done post-launch. A user wants constant improvements and even the great app ideas lose their relevance and position if enough attention isn't being paid.
Keep the below keynotes in mind to make your app a huge and constant success:
       1. Follow the latest trends in the web and mobile domain and bring constant updates in your app interface with the changing time.
       2. Do not forget to listen to your user's feedback, actions, and wishes and respond to their feedback. Your target audience knows the best way to keep your app updates so just listen to them.
I hope the above guide suffice all the information and help you understand important key factors about how to create a mobile app easily and fluently.
Do you have a unique and kick-ass app idea to thrive in the app market? We'd be glad to assist and implement the most challenging app idea. Connect with us today.