Modern technologies have not only reshaped the relationship that exists between humans and machines but they have created a great impact on interpersonal relationships too.
Did you remember: When was the last time you've informed someone about the upcoming meeting with the hand-written note personally?
With such a fast-going life, people have confined themselves into the "limited time" zone. More and more people are going online to find their soulmates. Socialization has become a rare occurrence. And this is why mobile apps, chats, and dating websites have gained immense popularity these days.
A quick look at some stats:
Around 

27% of the committed relationship

 is through the internet medium.
The dating app market is growing and so is the customer's demand. So, if you're thinking about how to build a dating app like a Tinder clone, you should be familiar with some fundamental rules.
But, before we start discussing the cost, features, and process of developing a dating app, here is what you must know:
Why Dating Apps are a Good Investment (Infographics) 

Credits: Appypie
Let's, us now heed to the Cost and Features of a Tinder-like Dating App.
How much does it cost to make an app like Tinder?
In short, the cost to build a dating app like Tinder depends upon several factors including application complexity, features and functionality, third-party tools and integration, and the offshore development company you choose to work with. If we take a rough estimation, the basic Android or iOS app development may cost you around $25,000 – $45,000 based on hourly rates of $25 – $50 in India. If you want to build an application on both empowering platforms, your overall budget would definitely exceed the limit of $80,000.
However, you can reduce the cost significantly by choosing cross-platform app development (Recommended- Flutter). 
Also Read: Why We Recommended Flutter App Development To 250+ Clients
Being working as a mobile expert for a decade, I would suggest you hire a dedicated app developer who works solely on your project. When you hire dedicated app developers, you gain access to the filtered talent pools and brilliant minds who have expertise across multiple technologies and industries. Based on their app portfolio and expert evaluation, you can choose the best offshore partner as per your project requirements.
Let's move forward in this blog to find more details on how to build a clone app like Tinder.
The Algorithm behind Tinder's Popularity
The aspiration to build a dating app like Tinder is constantly increasing due to its stunning popularity. Just look at the below figures: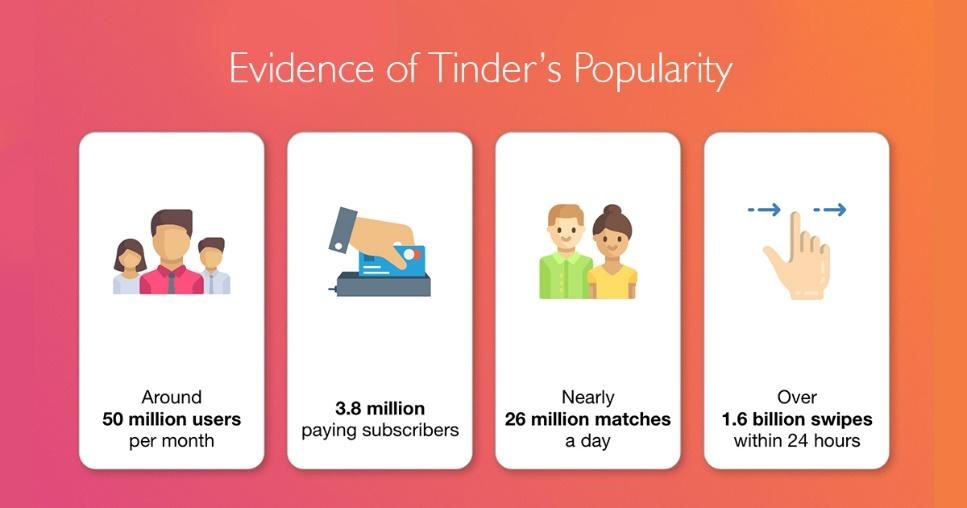 The stats are quite impressive, isn't it!
But what makes dating apps like Tinder so much in demand?
The answer lies in its simplicity to use. The Tinder app is quite simple to use for users. All you need to do is just swipe right and left for liking and skipping a particular person respectively. In case the opposite person responds with affection then tada! It's a match.
Another important aspect of Tinder is, it is open for Instagram integration. It allows users to access the Instagram profiles of their matches. It supports login with a Facebook account too. It helps users to find common friends, interests, favorite places, and more.
Tinder's Secret Weapon – The Hook Model
One of the biggest secret weapons of Tinder is its gamified layout which makes users feel that they are actually operating a gaming app rather than a dating app. Its fast-functioning algorithm and animated design depict more of a gaming experience. Tinder's main aim is to engage its users with addictive habits. It motivates users to swipe more so as to leverage more potential to find the perfect match.
Basically, the hook model has 4 elements: trigger, action, reward, investment
1) Trigger:
There are major two types of triggers that drive users' behavior: internal and external triggers.
External triggers focus mainly on the product's look and feel like app icons and notifications that help users to form habits.
For eg:
What will drive users to our services?
Users can be delved into the Tinder app by displaying a notification in cases when there's a match between users and when someone sends a message.
While internal triggers focus majorly on users' pain points, needs, and demands.
For eg:
What does the user really want from our app?
Tinder users are generally looking to meet new people for fun, friendship, dates, and relationships.
2) Action
Actions focus majorly on users' likelihood to perform certain activities by motivating them through some element in an easy and hassle-free way.
For eg:
Which is the simplest action a user can take to get some reward? How can the product be simplified to make the actions easier?
SWIPE RIGHT OR LEFT – It is the very first action that users need to take in order to grab the reward of meeting new people and making connections.
3) Reward
It is nothing but the expected reward you get after performing certain actions.
For eg:
Are Tinder users fulfilled by the reward still looking for more?
Obviously yes! When you get the first match with a handsome guy or a sexy girl, you have butterflies in your stomach. You got the reward of getting the attention of someone you like. So, if your date with the match went successful what else you'd want?
4) Investment
Investments are what occurs when a user puts something into the product like time, data, efforts, money. Users would invest in these non-monetary things to improve their own experience.
Tinder App Features one shouldn't forget to include
1) Simple Login
The app is secure and easy to use. Sign-in is simple. Just create a user profile with a mobile number or either with a Facebook account and it's done.
2) User Profile
A user profile is created to identify users' preferences and interests. All they need to do is just add their photos and publish short bio's. That's it!
3) Geolocation
The Tinder algorithm connects the people based on geographical location within a specified radius. The app makes use of the location service to track users' know-how and accordingly links new profiles as per location changes. Since users would like to meet the partners locally, adding this functionality would be a smart move.
4) Swipe & Matchmaking
Swipe right if interested, else swipe left to discard it. Once the users log in to Tinder, they are shown multiple profiles. So, if they want to speak to the person, Swipe right. If the profile you swiped right did the same with your profile, It's a match! It's the core functionality of the Tinder app.
5) Chat
If a match is found, a chat dialogue box opens that allows users to ensure private conversation. Your app should have a user-friendly chat interface with the latest functionality of the modern messenger.
6) Paid Features
Paid features can help users to gain a competitive advantage. They get access to more functionality and a better user experience.
7) No Ads Mode
Advertisements are so annoying. Users can go premium to ensure an ad-free experience.
8) Boost
Tinder's 'boost' function highlights a profile and makes it more visible to other users. Those who are looking forward to meeting more people might be inclined to use it.
9) Unlimited Right Swipes
While free versions allow users with a restricted number of swipes each day, users with the paid package can enjoy unlimited swipes and thus make more connections.
10) Super Like
In the free version of Tinder, you can 'super like' someone once per day. This means that you don't have to wait until the user comes across your profile. They can see that you liked them and are prompted to respond right away. The paid version of the app offers five 'super likes'.
11) "Likes You"
This function allows users to see who has swiped right on their profile. This feature is available to gold subscribers only.
How to Build a Dating App like Tinder – Development Team
When you think about hiring someone to build your dream app, do pay attention to your team's location. If you're hiring someone to build a dating app from the USA, UAE, or western Europe, the cost to build a dating app would triple the cost. However, hiring a dedicated app developer/development team from India would gradually do the same task in less amount.
At Adorebits, we can help you hire dedicated mobile app developers starting at $1900/month to build a Tinder clone app. Moreover, our app development experts can help you develop a dating app @ $25/hour. 
So, if you're really interested to build your own dating app like Tinder with a little bit of tweak, the project team would most likely consist of:
2 Backend developers

2 Android developers

2 iOS developers

1 UI/UX designer

1 Project Manager

1-2 QA engineers
Taking this into consideration, let's find out how much does it cost to build an app like Tinder.
What Adds to the Cost of Building a Dating App like Tinder?
All the above-listed features will involve a bit of time for development. However, you can take a look at the below table to estimate how many hours Android and iOS developers would need to at least deliver a basic functionality set.
Matching functionality – 80 hours

Notifications – 20 hours

Communication – 120 hours

3rd party services integration- 25 hours

Authorization – 18 hours

GPS location – 7 hours

Settings – 50 hours

User profile – 80 hours 
Conclusion
In order to create a Tinder-like dating app and gauge the approximate budget required for its development, it is highly essential to decide the feature set and functionality for the project. It is impossible to estimate the actual development timeline without understanding the project scope and features.
So, in order to find the actual cost and timeline estimates, feel free to connect with us.