So, you have the ultimate app idea. Sounds awesome!
Nowadays, it's quite common for a business to own a mobile app for seamless business operations. In fact, about 43% of the millennial-owned business have their app developed to boost business sales along with leveraging a substitute tool for their customers to make use of their services.
If you shift to the app store, you'll notice that majority of the business use their app. Air India, Citibank, Qatar airways are a few of the examples that head their operations majorly from the mobile app.
So, it does make sense if you think to launch a mobile app for your company. But the major question that arises here is:
How to launch an app? 
How to make your app compelling enough for users to remain glued to it?
Though considering a mobile app as a revenue generator can seem to be a lucrative idea, but even the smallest barrier can make the successful launch more challenging.
a) Your App Should Solve user pain points!
To launch an incredible app, it is imperative to solve user pain points. Even though you rigorously follow the below-mentioned steps, if your mobile application fails to solve user pain points, it will FAIL.
Let's get an idea of how these booming applications solve user pain points.
Trello – One-of-a-kind management app that helps you organize and manage your documents, notes, files, and task.
Facebook – A famous social media app that lets you stay connected with your friends and family life events, kills your boredom, and gets yourself connected with your real-life acquaintances.
What did you notice here?
The above apps sold are the "solution" to the issues faced rather than just being an app.
They didn't copy any business idea and did better than their competition by introducing themselves as a solution.
The problems solved by the app are more of our "wants" rather than requirements.
So, before you dive deeper into "how to launch an app", it's better to validate your mobile app idea thoroughly. All you need to do is first find a solution to the problem, build an MVP version, and test your app with users. If that gives you success, you can start with your app-building.
b) Always remember: Your app is a solution, not a product.
So basically, launching a mobile app isn't easy but it's not that tough as you think. This blog focuses on some important tips and steps that you need to follow to launch your iOS app.
So, let's get started.
What things need to be considered to launch an app on the app store?
App Store's Entry Free
How much does it cost to distribute your app in the App store? – This is the key question that bothers almost all the developers.
And the answer is: You just need to pay $99 annually to distribute your app on the App store.
So, what benefits do you receive?
Membership to Apple Developer program.
Access to Apple's evolving technologies including Apple Pay, Health kit, Maps, and Home kit along with the latest SDK and API's to build top-notch user experiences.
An auspicious opportunity to beta tests your app using TestFlight before making your app public. It allows 25 members of the development team to beta test an app on up to 30 devices.
App review process
Apple is very strict about its quality control process. So, to confirm that your app follows all the company guidelines, it will test your product for up to 2 days. If there are any issues with your app, it will inform developers about the problem in the email along with the app. Post that, developers have one month to fix issues and submit an update for review. If they fail to do so, they will abandon the poor-quality app from the App store.
Monetization opportunities
The App Store offers a quite generous amount of 85/15 to its publishers where subscriptions are available to all apps across a wide range of categories.
To enable in-app purchases, Apple offers its StoreKit framework that allows you to sell a variety of items along with subscriptions.
How to launch an app in App Store – A step-by-step guide
1. Conduct extensive market research
Though your app idea may seem lucrative enough what's the use if it isn't downloaded?
So before beginning with the app development, do a thorough MARKET RESEARCH. Because an idea without execution is just a daydream.
The below parameters will help you to conduct extensive market research to make your app launch successful:
i) Google Keyword Planner
It is one of the best tools to identify how many people are actually searching for a particular sentence or a keyword.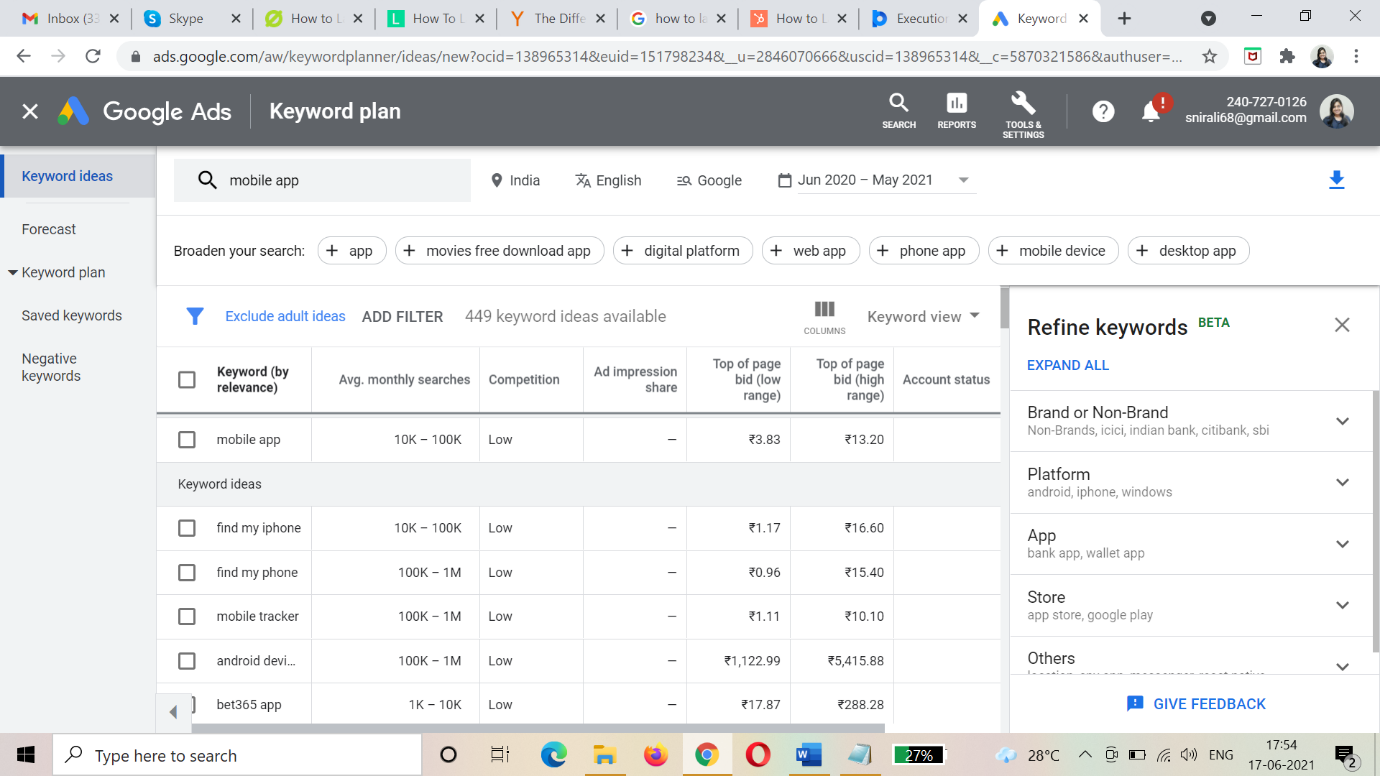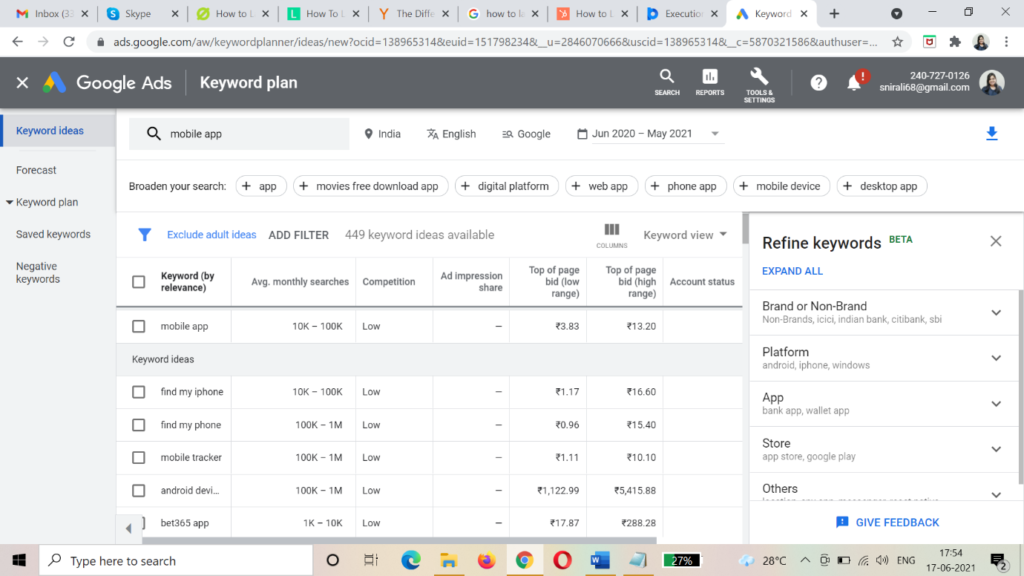 In the above screenshot, I have used Google planner to search for "mobile app" related phrases. You can easily visualize that the total number of searches ranges approximately between 100K – 1M. It also suggests other phrases ideas like find my phone and mobile tracker.
All in all, it is one of the best tools to identify keywords with the highest search volumes which acts as an input for further search.
ii) Consider your App's competitors
One of the best ways to build a successful app is to identify your competitor's app strength, weakness, features which further helps you to improve the loopholes and the pain points in your app.
For this you can:
Read their reviews and find out the negative experience of their customers and improve the same in your app.
Find out what marketing channels your competitors aren't using and take advantage of them. For eg: They are not using social media, fail to have a blog page, or don't have their YouTube channel – Great! It is an opportunity for you to work on these platforms and fill out the voids.
Find apps that bestow amazing graphic designs. Now copy their features with your logo, branding and make sure to build kickass UI/UX leveraging smooth experience to users.
2. Identify your target audience and strong value proposition
It is one of the most basic concepts of app marketing. To begin with app marketing, you need to lock in a powerful positioning statement.
Who is your app aimed for?
What benefit does your target audience receive from your app?
How is your app better than your competitors?
What value does your app derive?
The answer to the above questions is quite essential for a consistent brand image.
3. Do not forget "cross-platform" compatibility & App's browser version
Gone are the days where developers used to stick to either the Android or iOS platform.
In that case, how to launch a mobile app that reaches the masses?
Cross-platform development is the answer.
It is not only cost-effective in long run but also allows developers to build a browser version of a mobile app – Giving users multiple ways to access apps across devices.
Today, multiple mobile app developers have understood the significance of cross-platform compatibility and have successfully built apps on the same.
4. Test your app viability by publishing a landing page
Why launch an entirely new app when you can just build your app landing page to analyze the market demand?
By introducing a landing page, you can launch multiple key ideas in the first week and launch the pillar of your app in the subsequent week.
Various tools like Instapage, Leadpage, and Unbounce will help you to create customized landing pages. It's better to validate your app idea before beginning will full-fledged development mode.
Email signups, post likes, and link clicks are a few of the ways to gauge the customer's interest to buy what you're selling before you invest your hard-earned money into the development zone.
5. Create your app promo video
How to launch my app in a way that depicts its usability and usefulness?
The answer is simple: Your app promo video.
Your promo video is a highlight of what your app does and how it can prove to be useful in real-life scenarios. A short video is one of the easiest ways to attract user attention along with showcasing the value of your app.
An ideal promo video should range between 30 seconds to 3 minutes which states your app's key features, benefits, and prototype of your future app.
6. Create your app mockup
Once you've validated your app idea, now it's time to build your app mockup.
Designing your app mockup is the best way to visualize and find out how your app prototype will look and feel once the app development is totally completed.
App mockup allows you to test out multiple gestures and interactions like tapping and swiping. By creating a mockup for each UI with perfect notes and annotations, it will explain the app flow to whoever is viewing it.
7. Launch an invite-only beta test of your app
Before you look forward to publishing your app, make sure you invite users and ask them to beta test the app first. If you want to beta test your app in public, you can use TestFlight.
You can perform two kinds of tests here:
Internal testing is restricted to your internal development team members. Each team member should have access permission to Appstore connect to test the app.
Application public testing for anyone who desires to test the app up to 2000 people. Inviting users in TestFlight with an email address can give them access to your app.
To begin with App testing, you need to pass with Apple Review process.
8. Launch your app in the app store
Finally! Now is the time to launch your app in the app store. After a long brainstorming on an app idea, validation, designing, mockup, and developing your app, you're finally ready to get your app published in the App store.
You already know what needs to be considered before launching your app in the App store. However, make sure your app is bug-free and do-follow Apple store review guidelines for successful app publication.
9. App Store optimization
Once you have published your app, you can use ASO techniques to improve your app's rankings.
To improve your app ranking:
Add the main keyword to your app title
Include keywords in your application meta keywords and description.
You can also add keywords in your app screenshot's caption.
Conclusion
So, are you ready now to launch your mobile app in 2021? Solve user pain points, do a bit of research work, check out your competitors, build a landing page and app mockup, launch your app, and yeah! Keep marketing!
Further, we would be happy to assist you with mobile app development and app launch. You can even drop related queries here.