In 2020, we witnessed a startling growth in e-commerce sales. The social distancing norms enforced the brick-and-mortar store to temporarily halt their operations. And only the stores meeting the "essentials" category could enjoy some relief during the hard times. 
That said, consumers actively embraced online shopping. And mobile devices contributed immensely towards the increased e-commerce sales. 
As per Statista, mCommerce will add up to 72.9% of the total eCommerce share by 2021. This makes for over $3.56 trillion in revenue, growing at a YoY rate of approx. 34%.
The data inevitably represents the rising popularity of mCommerce app development. Today, more and more businesses wish to capitalize upon the huge online shopping market by creating their own eCommerce mobile app. 
But what if one considers choosing a mobile website instead of a mCommerce app? And what is the cost of eCommerce mobile app development? 
So, here we bring answers to all your crucial queries: 
Reasons to Build an eCommerce Mobile App
As we know smartphones come in handy whenever we are searching online. And this is one reason why the internet penetration through mobile devices has already surpassed table-top devices. 
What's crucial to understand, is that online shoppers would any day prefer an impressive user experience. And that is a crucial reason why online shoppers prefer eCommerce mobile apps over eCommerce mobile websites.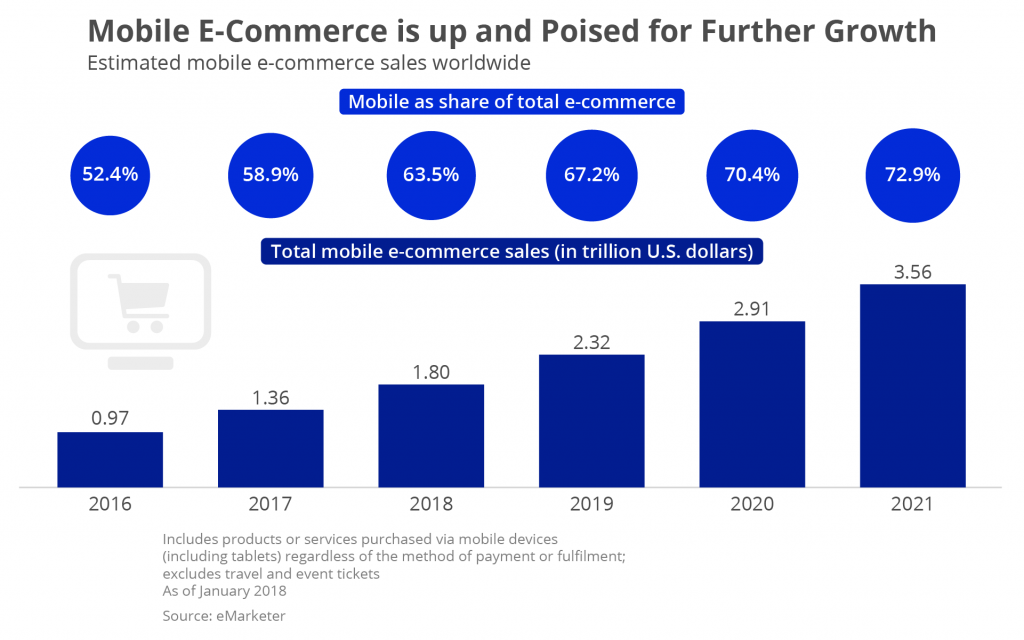 Here is what the statistics bring to display: 
85% of online shoppers

 would any day choose a mobile app over a mobile site. And the main reason behind this behavior is the superior user experience offered by mobile apps.

A similar survey reveals that eCommerce mobile apps help businesses earn 

157% higher conversions

 than mobile websites. And this number has increased considerably since when the survey was taken.

You might be surprised to learn that the average order value through mCommerce apps is $102. Meanwhile, the average order value through e-commerce sites is $92. 
Therefore, it might be the right time to grow your retail business with a mCommerce app. 
Moreover, an eCommerce mobile app avails you of several other benefits like: 
a) A Higher Audience Reach
Mobile apps generally offer a higher reach owing to the in-app notification features and the handy nature of mobile apps. As per a 2019 survey report, 57% of US shoppers prefer opening their eCommerce mobile apps to learn about a product. 
b) Higher Sales and Conversions
As represented by the stats above, mobile apps are preferred by 85% of online shoppers over mobile sites, the total sales through mobile apps are generally higher. Moreover, the conversion rate and average order value through mCommerce apps are also higher than eCommerce sites. 
c) Better Engagement Potential
Mobile apps offer better performance and work seamlessly, thus making them superior to websites. Better user experience and engagement translate into higher sales. 
d) Good Brand Recognition
If your brand's eCommerce app is installed on a user's smartphone, he comes across it at least 22 times a day. This forges your brand's awareness in his brain. And your app is likely to come in handy when he wishes to search for a product or buy it. 
So, opting for mCommerce app development is sure to offer a better eCommerce success. 
But now the main concern is how to build an eCommerce app for your business. So, let's move to the next point and understand the crucial features of a mCommerce app. 
Key Features of an eCommerce Mobile App
1. Sign-Up/Sign-In
Users must be able to sign-up on your app easily through their Gmail, mobile number, or social media accounts. They then have secure and authorized access to your app through their login credentials. They must be able to save the credentials (if they wish to). 
2. Consumer Profile
Whenever a new user signs up in your app, the app creates his unique profile. Here the user can manage his details like address, profile picture, contact, etc. Moreover, he can take a look at his order history and payment history from here. 
3. Dynamic Search with Filters and Sorting Options
To make the product sorting process as easy as Googling, there must be a dynamic search feature. The user can search for a product directly via its name and keywords. 
He also gets certain filters and sorting options to make his search highly specific.
4. Product Listing Section
The dynamic search option lands the user on a product results page where he can take a look at the highlights of each product result and then can click on any of the results to travel to the detailed product page. 
5. Dedicated Product Pages with CTA Options
The dedicated product page reveals all the specifications, descriptions, prices, and images of a product. Here the user can check if the product is delivered to his pin code location and then he can choose CTAs like Buy Now, Add to Cart, Add to Wishlist, etc. 
6. Social Media Integration
Consumers make their shopping decisions based on social proof. And one of the most crucial social proof is a friend's suggestions on a product. And therefore, you must add social media sharing options on the product page. The users can use these options to share product details with their friends or contacts and take advice on their purchases. 
7. One-click Ordering Feature
The one-click ordering option has gained enough popularity and is crucial to reduce the cart abandonment rate. Users must be able to order a product in as many fewer clicks as possible. Hence the Buy Now button must take the user directly to the payment page where he can just review his previously selected payment option and the delivery details. Once he approves it, the order is placed.
8. Cart and Wishlist Feature
If a user wishes to buy multiple products, he can add them to his cart and then finally place an order to buy all the products in the cart. In case, if he wishes to buy a product at a later stage, he can also transfer it from his cart to his Wishlist. Moreover, in case a product is out of stock, a user can add this product to his Wishlist. The app will notify the user when the product is back in stock. 
9. Online Payment and Mobile Wallets
Your mobile app must support NFC-enabled mobile payments. And it must be integrated with the popular digital and mobile wallets. 
10. Order Tracking
Users cannot wait to see when they are receiving their orders. And they prefer to stay updated throughout the delivery process. That said, you must have the order tracking feature to help the customers be notified.
11. Push Notifications
A mobile app offers you mobile push notifications feature to help you notify users about any activity related to their account. You can use these notifications to promote deals, discounts, events, etc. Mobile push notifications on average have 50 times more CTR than eCommerce emails. 
12. Reviews and Ratings
Social proof plays a crucial role in eCommerce decision-making and sales. You must allow customers to add the reviews and rating feature on your product pages. And you must also encourage consumers to add reviews & ratings about the products they have bought. This feature is also important for business transparency. 
13. Return or Cancellation 
Users must be able to send a cancellation request for a limited period. Moreover, the app must offer a Return feature if a customer wishes to return a product for any authentic reason. Plus, these requests are only accepted if they meet the cancellation and product return guidelines respectively.
14. Support Feature
Being a transactional app, your mCommerce app must have a dedicated Help & Support feature. The user must be able to contact your customer services via a chat, call, or email support. 
15. Augmented Reality
The AR technology is finding new applications in the eCommerce industry. Many mCommerce apps use the iPhone camera to offer an interactive shopping experience to shoppers via AR technology. One popular example is the IKEA app, where the furniture eCommerce brand (IKEA) allows users to project a digital image of a furniture product on their app in real-world interiors. This helps the users judge if the product fits well with their interiors and makes the shopping experience immersive. 
Based on your project scope, you can add an AR feature to your eCommerce mobile app.
1. Seller Authorization & Easy Access 
If it is a multi-vendor eCommerce app, you would need to add the seller panel. And sellers can use their unique credentials to log into the app.
2. Seller Profile Management
They can manage their profiles, product feed, and stock. Sellers can also check new order requests here and also receive notifications on new orders. 
3. Promotions
A multi-vendor eCommerce mobile app must also offer a 'promotions' feature to the sellers. The sellers must be able to promote their offers on the home pages, as upsell or cross-sell banners, or via push notifications, etc. In a majority of cases, the sellers are willing to pay for these promotional features. 
4. Last-Mile Delivery Tracking
If you are responsible for managing the delivery process on your multi-vendor app, the sellers must be able to see the status of the orders dispatched by them. 
This sums up all the key features you need to know for eCommerce mobile app development. The next step is to learn mCommerce app development cost and how you can reduce it. 
mCommerce App Development Cost
The cost to build an eCommerce app varies significantly depending on a plethora of factors. Some of the most significant factors include: 
The choice of features or the feature list of your mCommerce app

The overall app development time which is relevant to the actual cost

The mobile app development company you hire

The platform for which you build the app (Android, iOS, or both)

The use of AR technology or any special APIs for the app

The choice between native app development and cross-platform frameworks
So now when the cost of eCommerce app development isn't etched on stone, it can be hard to determine the actual cost estimations. However, if we prepare a general-purpose cost estimation for making a mCommerce app, it would be based on this timeline:

Now if we couple these hours with the average mobile app development cost of $40/hour across various countries, the cost ranges between $35,200 to $49,200. 
It is a general estimation for one platform (either Android or iOS). And if you choose native app development for both iOS and Android platforms the total cost can increase by up to 35%. 
 But, is there a way to reduce the cost of eCommerce mobile app development? 
Definitely, two ways can help you reduce the mobile app development cost significantly. 
Let's learn these ways in the next segment. 
How to Reduce mCommerce App Development Cost?
1. Cut Cost Up to 30% by Hiring App Development Company in India
Over 50% of Fortune 500 Companies outsource mobile app development to India to reduce their development cost. 
India is surplus with tech talent and the average app development cost from a professional mobile app development company can range between $25/ hour to $30/hour. This is significantly lower than Tier-1 countries (the USA, UK, Australia).   
 2.

Expect 25% to 30% Cost Reduction with Cross-platform Development
Now, when you choose native app development you would have to hire both Android and iOS app developers. And there will be two individual development phases for both platforms. This increases the app development time and cost. 
On the other end, there are popular cross-platform app development frameworks like Flutter and React Native. 
These frameworks allow you to make high-performance native-like eCommerce apps at 25% to 30% lower cost than native app development.
With cross-platform app development a single code powers both iOS and Android version of the app. Moreover, a single development team works on your app. This reduces the app development time and costs significantly. 
How We Can Help?  
We at Adorebits have delivered 450+ mobile app solutions to over 500+ clients within 5+ years of our service. Moreover, our team of 30+ mobile app developers has significant experience working on hundreds of eCommerce mobile apps. 
Whether you wish to hire dedicated app developers @ $1900/month or outsource mCommerce app development, we would be happy to send our best proposal. 
To learn more about our app development expertise, drop us a quick query.