Wish to leverage stellar business growth by creating your social media app? Here is everything you need to know.
So before we start, let us see why it makes sense to build a social media app?
53.6% of the world population is on at least one social media network.
The average daily usage of social media across all the users is 2 hours and 25 minutes.
The total no. of monthly active social media users will cross the 3 billion mark before 2022.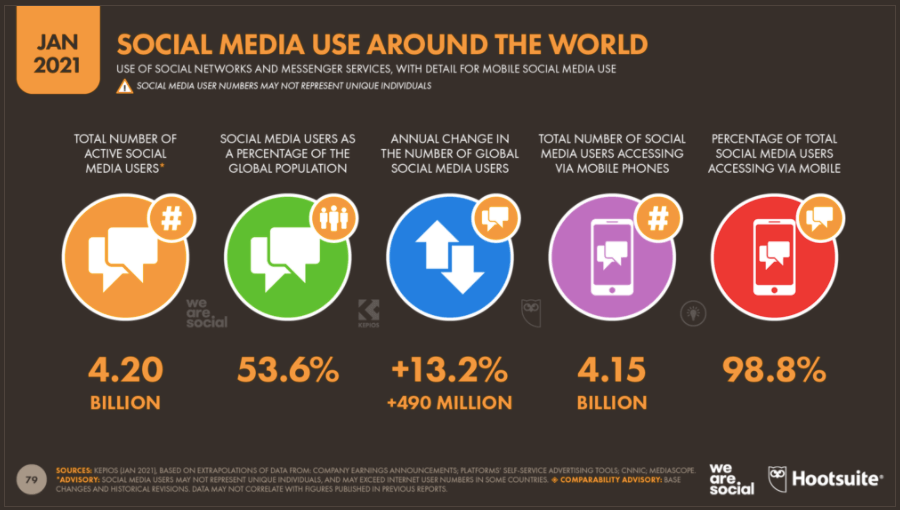 The above stats show the massive popularity of social media platforms. It is easy to assume that social media is one of the best business development platforms. 80% of businesses are already leveraging social media for marketing.
With that said, building your social media app can help you gain huge returns. And we have already witnessed the TikTok and Snapchat success stories recently.
Moreover, we know that social media is primarily accessed via mobile devices. And so, social media app development is undoubtedly a productive business idea.
In this article, we bring you:
Perks of Making a Social Media App
Types of Social Media App
The Basic Features of Social Media Apps
Advanced Features for Social Media Apps
Social Media Mobile App Development Process
The Cost of Developing a Social Media Mobile App
The Next Step
Perks of Making a Social Media App
Sailing Along with the Innovation:
Social media mobile apps have been gaining massive popularity lately. Be it brands or consumers, every user wishes to gain popularity on social media. 90% of millennials are using at least one social media channel. And social media apps are already leading as one of the most innovative business sectors. So, building your innovative social media mobile app helps you cater to a huge audience.
Growing Revenue through Value Creation
Unlike other business models where you need to attract consumers to buy your offerings, social media works on a community model. Therefore, you have to create an initial user base on the social media app. And once they start using it and producing their content, it attracts advertisers automatically. Therefore, after you create some initial value for the app, it grows along with the user base. Successful social media apps are self-growing communities.
Monetizing through Advertising Opportunities
After you have a decent user base on your social media platform, you can offer your paid advertising services like various other social media platforms. Social media marketing is leading as one of the most promising advertising strategies. Moreover, influencer marketing is growing exponentially.
Building Your Customer Base
Except for advertising, you can also use social media for selling your proprietary offerings. Having your community app gives you a direct reach to a huge customer base. So, you can sell your proprietary offerings (products/services) on the platform.

Types of Social Media App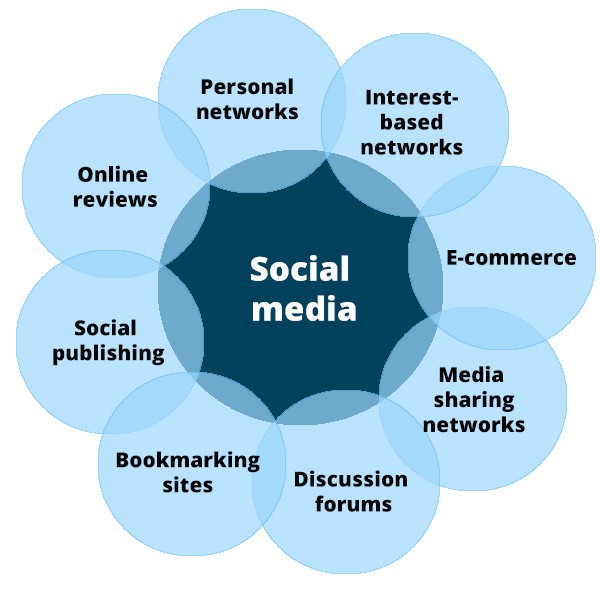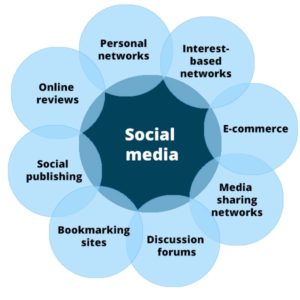 1. Social Networking Apps
These include Facebook, Twitter, Instagram, and LinkedIn that allow users to build social connections. Further, these provide free and paid advertising channels to businesses.
2. Media and Networking Community
These include media-sharing communities like YouTube, Vimeo, Snapchat, Tiktok, etc. Users can share their posts, and advertisers can also promote their posts.
Platforms including Quora and Reddit are well-known community and discussion forums. Users can post their queries, post answers, and have discussions on varied topics.
4. User Review Network
These include Yelp, Trustpilot, Foursquare, and several other platforms. Review platforms allow users to post and view reviews about a business.
5. Blogging Platforms
These include platforms like Tumblr and Medium, which allow users to write and share blogs.
6. Messenger Network
Mobile apps like WhatsApp and Facebook Messenger allow users to access social messaging.
7. Bookmarking Network
These include Flipboard, Mix, Pinterest, and several other platforms. Here users can post, discover, view, and save content.
Except for the above categories, we come across several others like dating networks, news networks, readers networks, etc. Each of these app categories has its specific features and scope.
The Basic Features of Social Media Apps
For Users: 
Sign Up/Login
Profile Creation and Management
Notifications
Search Functionality
Connect Feature
News/Feed
Chat Feature
File Upload Feature
Group and Subgroups
Moderation and Reporting Options
Livestreaming Feature
Theme Customization
Analytics
Monetization
Advertising
Privacy and Security
For Admin:
Login
Managing Users
Managing Content
Managing Privacy/Security/Support
Managing Advertising Channel
Sharing Admin Access

Advanced Features of a Social Media App that You Must Include:
Social media consumption has grown significantly in the past few months. And today, social media is one of the most beneficial business development platforms.
With a huge reach, endless monetizing opportunities, and an awe-inspiring engagement rate, businesses are capitalizing impressively from social media apps. And we are witnessing abounding new features in the social arena.
Some of the advanced features that have gained impressive popularity include:
Augmented Reality: Social media apps are offering engaging AR features integrated with their camera functionality. These can be through face filter apps and other scenic filters. With this, AR-based features are also used to promote e-commerce and shopping. For example, make-up brands are utilizing AR technology to promote their offerings.
Transient Content: It is popular as stories content and status content that stays for just 24 hours. Facebook, Instagram, and Snapchat users utilize these features regularly.
Shopping Ad Features: Instagram Shoppable Posts and Facebook shopping ads are also gaining significant ground and many e-commerce businesses are utilizing these features.
AI Chatbots: AI-based chatbots are also introduced in some social media platforms. This helps engage the users better and build an impressive app experience.
Barring these, several other advanced features like AI-based speaking assistance, voice command, etc. are also integrated into some apps. However, these features depend upon the specific app scope.
Social Media App Development Process

1. Define Your App's Purpose and Its Ideal User Base
No wonder that when you embark on a journey, you must know its purpose. Unless you are just exploring. But, in that case, choosing social media app development is not a good idea. You have your money at stake!
You should know your target user base and define the desirability of your app. You cannot sell apples to an apple tree, perhaps try mangoes or superior quality apples. You got my point, right?
But, with an abounding number of social media apps, users already have oodles of options. So, you need to define your ideal target audience, and your app idea must be superior (if not unique).
It is advisable to work on the desirability, viability, and functionality aspects beforehand. And you can always switch to an experienced mobile app development company for the viability and functionality part.
Many companies would be happy to provide you with valuable consultation on your app idea. Moreover, they will help you bring it to life.
2. List Down and Finalize the Features and Functionality of Your Social Media App
The next step is to list down the features that the application offers to its users. You can pick some basic features from the feature list mentioned above. However, your detailed feature list will depend upon your app's project scope.
You need to make several considerations for enlisting the features of your social media app.
These considerations include:
How will users interact with the social media app?
What is the app's monetization model? (Freemium, in-app purchase, ads, subscription, etc.)
Can users create their profiles on the app?
What kind of content they can upload on the app and how?
Does the app have a news feed section, story section, live-streaming feature?
How do users interact with other users?
Can users create their group of contacts?
How the app cope up with the user's privacy requirements?
How it keeps a check on the content on the app and what is the penalty against violations?
Does the app help businesses promote their offerings or build a useful network?
Does the app harbor any advanced features to grow its engagement potential?
What are the set of features for the admin?
These considerations will decide the detailed functionality of your app.
Needless to say that a social media app development company can help you plan better. And of course, you can't ignore the huge competition in the social media app market. You need to make your feature list future-proof.
3. Define the Project Scope and Plan the No. of Iteration Cycles
So, now it is time to ink the detailed project scope of your app. Wait, didn't we just create the feature list, doesn't it already define the project scope? Let's not confuse your feature list with your project scope.
When your feature list is ready, you must shape it into a project scope that 'works for you.'
In some cases, you need to break your entire project scope into multiple iterations. It is almost an MVP, just a more desirable version.
So, you might need to know which set of features are the most essential for you. And do these features give your app the desirability and functionality it requires? And maybe you can plan the other iterations based on market feedback.
However, in cases where you have a substantial budget to execute the entire project scope at once, you need not consider breaking the project scope in iterations. This might also help you with increasing the desirability aspect of your app.
Do your due diligence and take help from your app consultation partner.
So by now, you would have understood that the role of your app development/consultation partner begins way early before the development phase. And henceforth we often run into the advice of choosing the right development partner.
Up till now, you would have also finalized your mobile app development partner. Here are some fundamentals to help you out with finalizing your mobile app developer:
Scrutinize the experience of the app developer
Check the solution building expertise using case studies and portfolios
Discuss your budget requirements and screen accordingly
Check for social proof and previous client testimonials
Discuss the privacy policy and engagement models

4. Allot Teams to Build the UI/UX of Your App
By now you would have finalized the mobile app platform for your social media app. In fact, a majority of social media apps are developed for both iOS and Android platforms.
And the platforms you choose have an impetus on your app's design. So, your design team will start with designing the wireframe and interface of your app. This will give you a clearer idea about the look & feel of your social media app.
The next step is to design the user experience and prototype of your app. The app designers you hire help you build the UX of your app. Moreover, the prototype helps you comprehend the user journey and interactions on your app.
Your social media app development partner must understand your application's purpose.
The app's design must appeal to the target audience. It should be crisp, engaging, functional, and deliver a consistent experience across all platforms.
5. Pass Your App into the Development Phase
In actual fact, the design and development process work simultaneously for social media app development. The design, codes, and interactions are placed in harmony to offer the right functionality.
Some businesses prefer to opt for native app development for better performance. However, cross-platform frameworks like Flutter and React Native also offer commendable performance. Facebook & Instagram are the best examples of cross-platform apps. Both these apps are built on React Native framework.
Moreover, there are many benefits of cross-platform app development like:
Significantly lower app development cost
Single code works both for iOS and Android platforms
Competent and native-like performance
Significant reduction in development and testing time
Along with this testing phase, the developers also build a robust back-end for the app. It includes the establishment of databases, servers, APIs, etc.
The testing phase follows the development phase. However, in most cases, developers follow parallel testing. The QAs test the code, functionality, and user experience of the app across all platforms.
What is the Cost of Developing a Social Media App?
Needless to say, there isn't a definite one-word answer to this question. However, several factors can help us reach the closest estimates for our app development cost.
These factors include:
The actual project scope of our app with the no. of features and functionality;
The no. of platforms on which the app works and the technology stack;
Custom development choice or using an existing social media model
The choice of native or cross-platform development approach;
The experience and expertise of the mobile app developer you hire
The engagement model one chooses
Except for the above factors, the location of your app development partner significantly affects your development cost.
When you outsource social media app development to Tier-1 nations like India or the Philippines, you can expect up to a 50% reduction in the app development cost. The average cost of hiring a mobile app developer in India is as low as $25-$40 per hour.
And there are of course other perks of outsourcing mobile app development. Few of these are- global expertise, less to no project management responsibility, etc.
As per the universal data, your social media app development cost ranges from:
$20,000 to $40,000 for an MVP social media app that takes 3 to 4months to develop.
$35,000 to $70,000 for a feature-rich social media app that takes over 6 months to develop.

Now, if we check the cost details for an Instagram-like social media app, it looks like:
UI/UX Design Phase – $7,000 to $9,000
Development Phase (iOS/Android platform) – $18,000 – $22,000
Client-side Development – $10,000 to $12,000
Server-side app development – $20,000 – $25,000
Total Cost of Instagram-like Application – $62,000 – $70,000
These estimates can increase on decrease by a small margin based on the factors discussed above. However, the factors that will bring a significant difference in the cost include:
The outsourcing factor
The mobile app development company you hire
The overall scope of the app
The choice between cross-platform app development and native app development
It is advisable to do your due diligence well in advance to choose the right app development partner. One may choose an offshore development partner who offers commendable cross-platform app development expertise. It helps you build a competent social media app without shelling a hole in your pocket.
How Can You Monetize Your Social Media App 
You need to establish a monetization strategy and value creation model for your app. Based on an app's scope, businesses can establish different types of monetization strategies.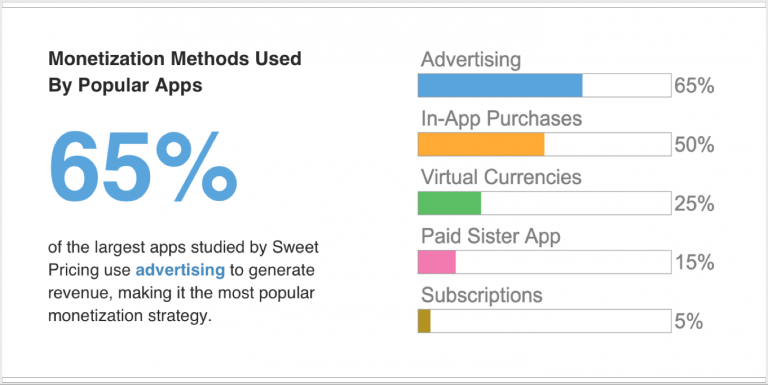 Source: sweetpricing.com
Some successful monetization strategy used by popular social media platforms include:
Freemium Model: In this, the app offers basic features free of charge. However, a user needs to upgrade to the premium version for the advanced features. LinkedIn uses the freemium model.
In-app Purchase Model: Many social media platforms offer in-app promotions and in-app purchase features. In both cases, the users or businesses pay for these features and generate leads and sales. Instagram and Facebook both use the in-app purchase model.
Subscription Model: Some social media communities offer exclusive content and target an exclusive audience. Users need to pay monthly or annual subscriptions to access these platforms.
Combination Model: In this model, a platform uses a combination of two or more monetization models. An example is LinkedIn, which uses both Freemium and In-app Promotion, models.
The Step Ahead
No wonder the average time on smartphones has proliferated owing to the remote work culture. In tandem, the average social media consumption per user has increased significantly. And the revenue of the social media market is exploring new peaks.
With that said, it is the right time to build and lead with a social media app.
We have recently witnessed how new types of social media apps have picked the market by storm. The whooping popularity of Tiktok, Snapchat Filters, and Instagram Reels hints at acceptance for new social media apps. And if you embrace it right, you can capitalize on it confidently.
The step ahead would be to future-proof your social media idea and bring it to life. It is advisable to hire a social media app development company that keeps updated with the latest trends.