It is 2021, and we are witnessing a significant upsurge in the on-demand sector. As per Statistica.com, U.S. businesses invest $57.6 billion in the on-demand sector annually. And this investment brings on-demand convenience to 22.4 million users. Thus, making on-demand app development a worthwhile business idea in 2021 and beyond.
The social distancing and stay-at-home culture have added significant impetus to the growing on-demand sector. Users don't only appreciate it but are used to the 'solutions at your fingertips' trend.
Moreover, consumers see the on-demand sector as the future instead of a temporary fad. And the main reason is 'convenience' of course!
The on-demand economy sector is expected to surpass $335bn by 2025.
Whether it is Netflix, Zomato, or Postmates, each on-demand sector is growing rapidly. And more & more businesses are leveraging profits with their own on-demand apps.
According to on-demand statistics:
51% of businesses that invest in the on-demand economy witnessed a rise in their profits.
67% of on-demand executives saw an increase in their earnings.
With that said, if you wish to earn millions from your app idea. An on-demand mobile app is one of the surest ways to lead.
So, here we put down our research on paper to list the best on-demand app ideas in 2021. Further, we will also give you insights into on-demand app development costs.
Top 8 On-demand App Development Ideas that Can Help You Earn Millions in 2021
1. On-demand Grocery App Development
Online grocery purchases in 2019 only added up to 2.3% of the total grocery sales. However, in 2020, 35% of U.S. consumers chose on-demand grocery shopping.
In tandem with it, online grocery revenue proliferated to $7.2B by June 2020. And 70% of this growth was influenced by the pandemic and social distancing culture.
With that said, many grocery businesses have started investing in the on-demand sector. However, still, this sector has a high demand-to-supply ratio. And you can leverage huge profits by opting for on-demand grocery app development.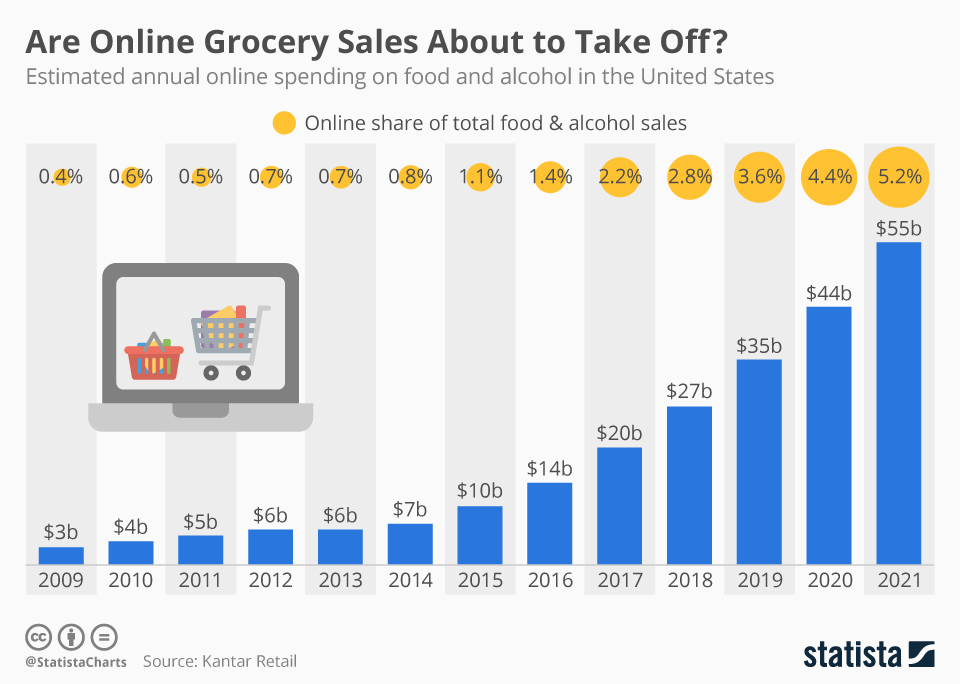 Walmart capitalized on this trend by integrating its app with Walmart Grocery App. This gave the grocery app great reach and increased the on-demand grocery sales.
Whether you wish to bring your grocery business online or build your on-demand grocery app from scratch, you can earn humongous returns.
Moreover, even after relaxations in the stay-at-home norms, consum7ers cling to the online grocery purchase trend. This hints at the unwavering future of the on-demand grocery app idea.
And the last piece of motivation to choose on-demand grocery app development is:
Kroger, a grocery business, witnessed a 92% increase in online grocery sales with its app.
2. On-demand Entertainment App Development
The on-demand entertainment sector has picked up at a rapid pace within the past 5 years. And the pandemic situation has added unceasing momentum to its growth.
The on-demand video streaming market is estimated to exceed $71,237M within 2021. Platforms like Netflix and Amazon Prime have added impetus to this trend.
Netflix leads the on-demand entertainment sector with 203.66M subscribers as of Feb 2021. Moreover, the platform acquired a 21.9% growth in subscribers within 2020.
We are witnessing the growth of newer video streaming platforms since 2020. And many of these platforms have already established a good user base.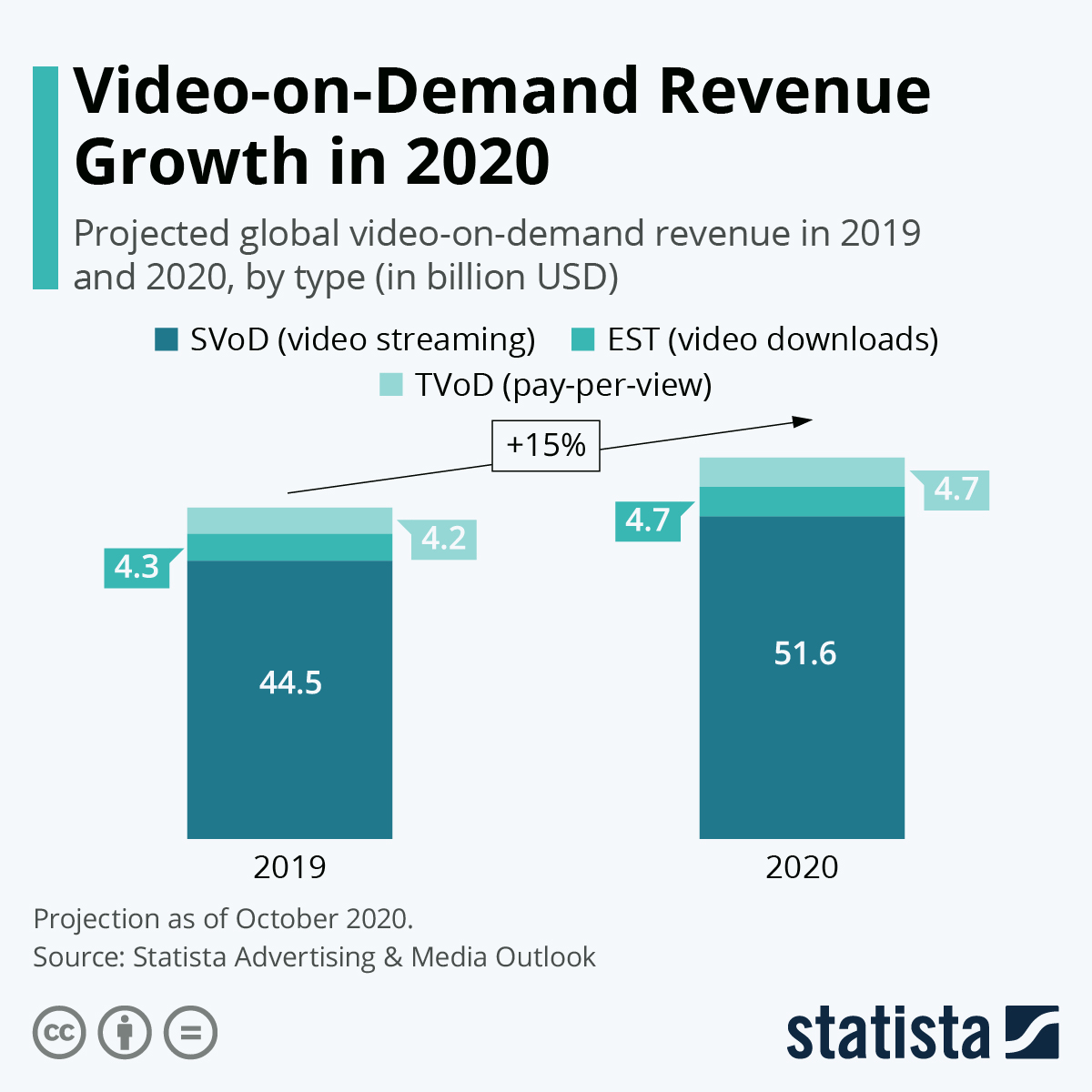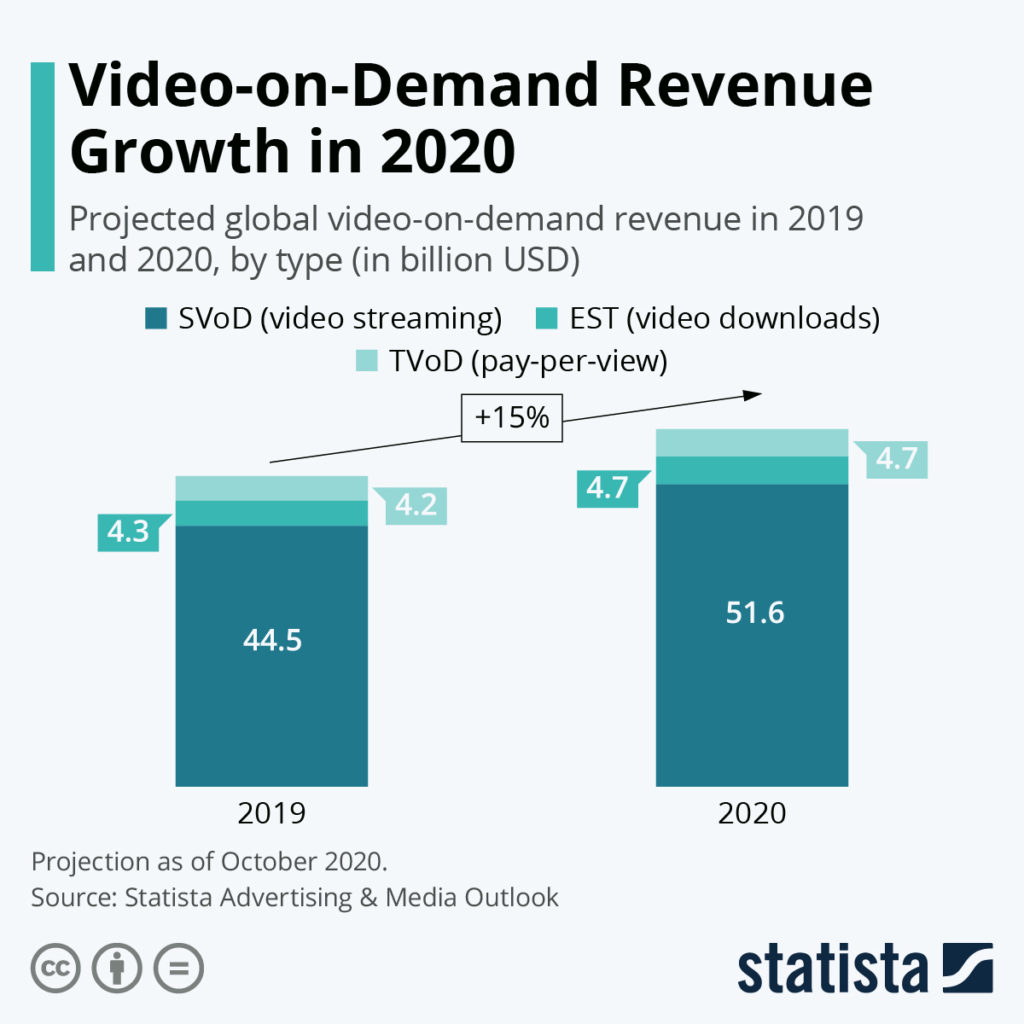 Today, users prefer selective entertainment with the comfort of their homes. On-demand entertainment apps allow users to:
Select the type of video content they prefer
Watch or use the app flexibly according to their schedule
Pay, or subscribe only for the content they wish to watch
Sort and create a list of favorites
With that said, it is the right time to lead with your own on-demand entertainment app. If you offer exclusive content on your app, you are most likely to draw huge returns.
With this, you can attract good entertainment providers to publish & promote through your app. It will add to your app's growth significantly.
3. On-demand/Online Pharmacy App Development 
Online pharmacy apps have been here for a while now. However, it got a significant breakthrough during the pandemic situation.
On-demand medicine or prescription delivery apps gained vast popularity in the lockdown situation. Moreover, the businesses increased their profits by employing digital marketing channels.
The global e-pharmacy revenue is estimated to transcend $131B by 2025. And mobile app platform is expected to lead this trend by 2025.
Today, many pharmaceutical leaders have already employed prescription delivery apps. And this hints that the trend is not fading any time soon.
It is advisable to invest in on-demand pharmacy app development and gain quick returns. Moreover, many businesses are readily utilizing upsell & cross-sell deals to grow sales.
Experts estimate that pharmacy marketplace apps will dominate within the next 5 years. And online pharmacy sales will form a substantial part of overall pharmacy sales.
Many, pharmaceutical brands have made their on-demand apps eligible for global sales. And this is helping them grow their returns up to many folds.
So, if you wish to gain stable returns from your on-demand app development idea, on-demand pharmacy is a sure way to lead.
4. On-demand Home Services App Development
The on-demand home services market has shown rapid growth in the past 5 years. And its growth index is expected to rise beyond the present CAGR.
Technavio market research analysts expect the on-demand home services market to reach $1,547.86B during 2020-2024.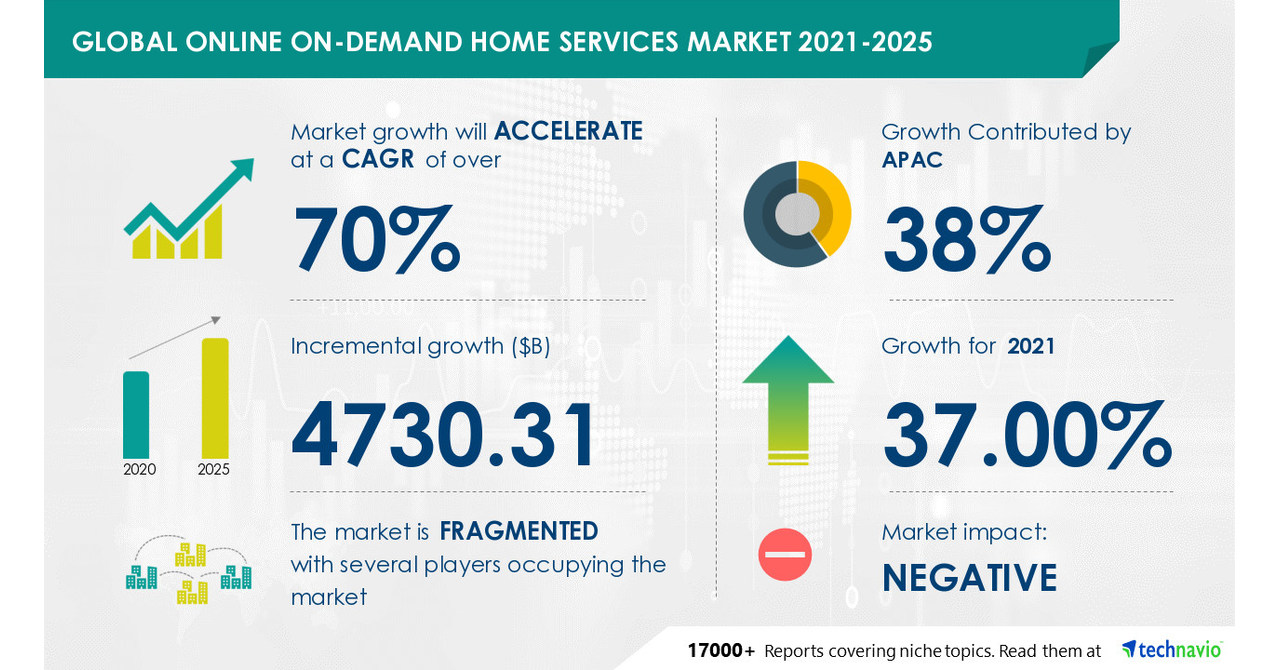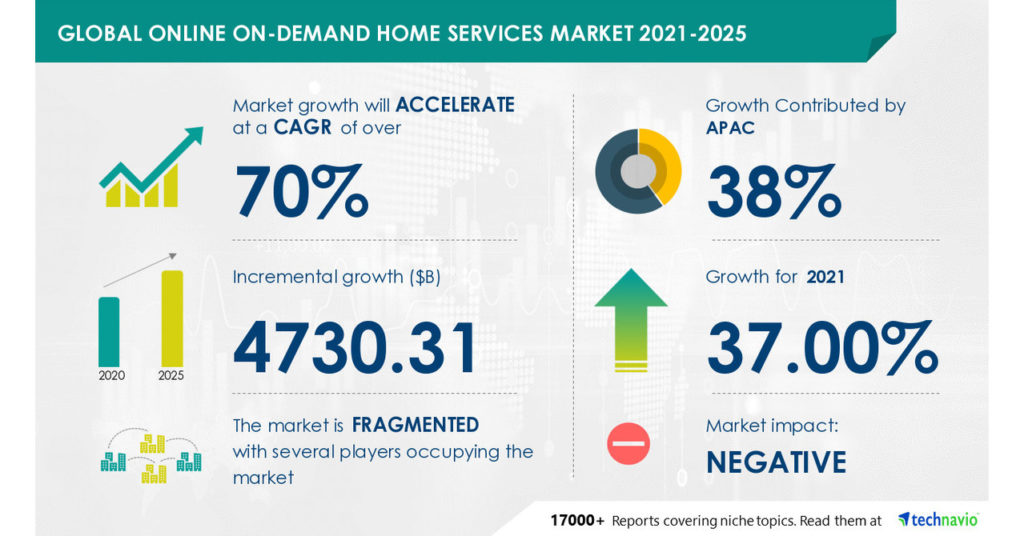 The on-demand home service apps have eliminated the hassle of finding service providers.
Today, users do not have to make multiple inquiries for hiring a service provider. Instead, they can now make bookings with a tap on their smartphone screens. Users can easily check the options, cost, fix schedules, and make bookings.
Moreover, we are witnessing increased demand in the sector. And abounding service providers willingly share their profits in return for increased earnings.
An on-demand home services app can allow you to lead with an aggregator model. And you can establish your own brand by on-boarding abounding no. of service providers.
The home services app follows a simple incentive-based monetization model. And home services app development hints at consistent growth in the future as well.
5. On-demand Car Service or Mechanics App Development 
The on-demand car repair services segment gained significant traction recently. And the idea is still underexplored in many countries.
It has eliminated the traditional hassle of scrolling through multiple references. Now users can directly book a mechanic via an app rather than making multiple calls.
As you choose on-demand mechanics app development, you must also prepare for:
Offering exclusive features to allure the users and on-boarding service providers
Establishing a network of skilled mechanics or car repair service providers
Making the app highly intuitive and seamless for users
Targeting the locations where there is a high demand for the service
This app idea allows you to function as an aggregator and establish your own brand. And you can earn from a simple commission-based monetization approach.
The on-demand mechanic app idea displays a consistent and remarking future growth.
6. On-demand Beauty Services App Development
An average woman spends $313 per month on beauty. And this figure sums up to $3756 annually.
With that said, this app idea has immense potential. We have already witnessed a massive growth of on-demand haircare & beauty services in the past 5 years.
Consumers today have made time efficiency and at-home comfort their priorities. And this is a crucial reason why the on-demand beauty industry is thriving.
Exclusive Insight: We recently made an on-demand haircare app for a client in the USA. And the client was able to establish a good user base within just 2 months of its launch. 
The on-demand haircare trend became significantly popular in the lockdown situation. And users do not mind paying extra for the convenience of beauty service at home.
If you already offer beauty services, you must consider creating an on-demand app. Moreover, this on-demand app development idea is timeless.
7. On-demand E-learning App Development 
The e-learning industry revenue has outgrown the $250B mark in 2020. And it is expected to grow over a CAGR of 21% from 2021 to 2027.
The sector has been displaying relentless growth for almost 7 years now. And it witnessed a massive upsurge owing to the pandemic situation.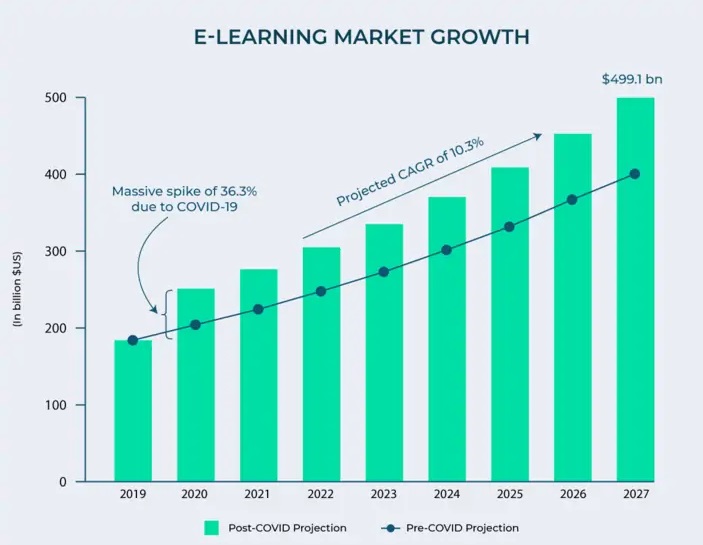 Source
As lockdown implications continue, more & more students have resorted to online education. Moreover, the e-learning industry saw a major transformation from specialized training to subject-based learning.
Today, many e-learning apps cater to millions of students and learners. And on-demand e-learning apps help them leverage selective learning programs with ease.
If your e-learning app offers a great learning experience, you can witness exponential growth within no time. The huge user base and the whooping growth rate make it one of the best on-demand app ideas for 2021.
8. Online Food Delivery App Development
One of the most successful sectors in the on-demand economy is online food delivery. The trend has stayed for a long time now and holds its value strong and consistent.
The global online food delivery market is estimated to transcend $11,666M in 2021. Moreover, the marketplace model dominates this sector.
Nevertheless, early adopters like DoorDash, Grubhub, and Uber Eats leverage the highest benefits of this trend in the USA. Many restaurant & food-chain brands are establishing their proprietary customer base by creating brand-specific food delivery apps.
Allure your consumer base with your services and convenient features. And you are most likely to leverage huge returns from this app idea.
Other Promising On-demand App Development Ideas
Above are some on-demand sectors that have been displaying consistent growth. Moreover, these sectors have a huge demand-to-supply ratio in the present times.
However, there are some niche-specific on-demand app ideas that you might find relevant:
On-demand Uber-like or Transportation Apps: This is undoubtedly the most successful on-demand app idea. However, this sector has ruthless competition today.
On-demand Health & Fitness Apps:
Doctor on-demand apps and fitness apps also make a good choice, especially in 2021. However, your app must be able to establish commendable customer loyalty.
As per a report of III, 63.4 million of the households in the USA own a pet dog. And around 42.7 million of the USA households own a cat. So, on-demand pet care app is a productive app development idea. However, you need to assess the growth rate of the industry.
On-demand Laundry Services Apps:
On-demand laundry apps target a large user base and are a timeless app idea. If targeted prudently, it can offer consistent returns in 2021 and beyond.
On-demand or online retail mobile apps draw 157% higher conversions than web-based sessions. And analysts anticipate the e-commerce sector in the US alone will surpass $740B in revenue by 2023. On-demand retail makes it to the list of best on-demand app development ideas easily. However, today the sector is already dominated by e-commerce marketplaces.
Summing Up
The on-demand sector has already introduced disruption in the online business world. And it is the best time to capitalize upon this disruption.
So, the above are the best on-demand app development ideas for 2021 and beyond. You can brainstorm these ideas and can also connect with us for a free consultation.
Furthermore, our expert mobile app developers can help you bring your app ideas to life.
The best advice is to make hay while the sun shines!
– – – – –
Certain stats and references are taken from:-
RentALLScript; AppScrip; Business of Apps; CNBC; Statista; Backlinko; GlobeNewswire; Byrdie; Global Market Insights Inc; Sell Courses Online